23 October 2018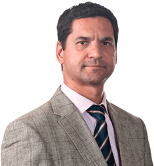 Andrey Ivanov, Head of Commercial Practice at Khrenov & Partners, took part in The Interlex Group Annual Meeting in Seoul, Korea, October 18-19. Since August 2017, Khrenov and Partners has been a member of this prestigious association that brings together leading law firms from 60 countries to provide clients with a full range of legal and business services worldwide.
During the conference 55 representatives of the best law firms from four continents discussed current trends in the development of legal business, exchanged views on how to meet the challenges of the time, shared their visions on the criteria for choosing the best strategy and organizational model for a law firm depending on business goals.
"When you find yourself in a colleague environment with such a degree of concentration of professionalism and positive business experience, this is not only useful from a practical point of view, it really inspires," concluded Andrey Ivanov, "it is also good to know that Khrenov and Partners is able to meet the highest international standards of legal business and prove its potential to provide high quality legal services to colleagues from any country in the world".
___________________________________

The Interlex Group
is a worldwide association of leading law firms that cooperate to provide a complete range of international legal and business services to clients.
Interlex has been ranked as one of the elite networks in the world by Chambers and Partners.
Khrenov & Partners is the exclusive Russian representative of The Interlex Group.